The Leading New & Used Retail Store Fixtures, Store Displays & Material Handling Equipment Warehouse in the Upper Midwest!
Welcome to Accent Store Fixtures!
Our new & used products include:
Store Fixtures, Store Displays, Store Shelving
Material Handling Equipment
Streater & Lozier Shelving
Backroom Storage Shelving
Lundia Shelving
Gridwall
Slatwall
Hangers
Hooks and Brackets
Price Tags, Price Guns, Tag-Its
Miscellaneous Retail Supplies
Pallet Jacks
Conveyors
Forklifts
2-ways, 4-ways, Parallel Racks
Mannequins
Shopping Carts & Hand Baskets
Our products are essential for:
Retail Stores
Clothing Stores
Gift Shops
Grocery Stores
Convenience Stores
Dollar Stores
Pet Stores
Music Stores
Bars, Restaurants, Cafes
Coffee Shops
Your Home!
GARAGEs! Sheds! Basement Storage! Closets!
Storage Areas
Your Organizational Needs!
Farmer's Markets
Craft Shows, Art Shows
Photography Studios
Artists!
Collectors of Goofy, Strange and Weird Things!
Our customers include the following throughout the Upper Midwest and Beyond

:
Individual store owners with shops and boutiques up and down the major shopping avenues and districts, as well as in retail malls and outlet malls, throughout the Twin Cities of Minneapolis and St. Paul and beyond;
Owners of liquor stores, grocery stores (conventional and cooperative), convenience stores and gas stations, bars, cafes and restaurants, and hospitals and urgent care centers;
Individuals for their home organizational and decorative needs;
Visual artists, photographers, fashion and set designers, sculptors:
Our mannequins, props, fixtures, etc. have appeared in numerous TV and magazine commercials and even in a film or two!
Halloween and other theme and adventure parks
Click here to see photos from stores whose proprietors bought fixtures from Accent Store Fixtures!
Our goal is to provide high-quality new and used retail store fixtures, store displays and material handling equipment at the lowest possible price!
Accent Store Fixtures is conveniently located near the Minneapolis Farmer's Market & the new Twins Stadium!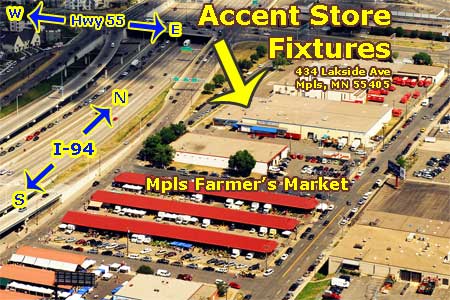 Google Map of Accent Store Fixtures in Minneapolis, Minnesota